The Safety Mom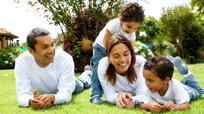 The most tragic and devastating event can you put you on the path to greater fulfillment. That's according to national family-safety expert and TV personality, Alison Rhodes, a.k.a., "The Safety Mom." After losing a baby to SIDS, Alison made it her mission to spare other parents the grief that she experienced. "My goal is to help parents sort through the tremendous amounts of information and misinformation in the media and make the best decisions for their family regarding health, wellness and safety," she explains.

Beyond safety tips, Alison hopes to educate parents on all of the factors that contribute to a child's overall wellbeing—for example, the tremendous influence parents have as role models. "It's important that [parents] lead by example when it comes to healthy eating, an active lifestyle and good self-esteem," she suggests.

In fact, being a good role model has become one of the strongest motivators in her own life. "I get my strength from my children," she admits. "It's incredibly important to me that they be proud of me and respect what I do."

Read more about Alison Rhodes in our Profiles of Change gallery.
Posted: 2/14/10