Start Your New Job Smart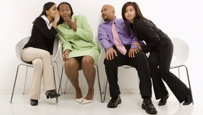 During the first 30 days of starting a new job, don't assume that you need to speak up and stand out to make a good impression. According to Cathie Black, president of Hearst Magazines, it's better to blend in and make them look good. Here, she shares her advice:

- The first month is not your time to make a personal statement. You have to kind of feel the place and sense the tempo. So if people are casual, then that's great, you can be casual.

- Saying too much and spouting off your own opinions can come across as showing off. Especially around people who are more senior than you, it's smarter to listen and learn.

- Don't go in with the attitude that you're going to change the place. Instead, focus on understanding how the place works. It's not about what you want. It's about what they want and how you can move something forward.

Read more new job advice from Cathie Black. Click to receive 30 FREE daily tips on Starting a New Job, press the Yes button.
Please feel free to forward this message to any friends you think will need it.
Posted: 1/6/10