Create the Ultimate Change Environment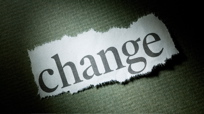 The spaces in which you live and work, including your decorations, can have a dramatic effect on how you move through change. During times of transition, surround yourself with symbols of comfort and positive memories, such as stuffed animals, photos, cards, candles and other meaningful trinkets. Keep a lucky stone in your pocket or tack some inspirational quotes on the wall. These items give you strength and confidence, acting as a compass to get you back on course when you lose your way.

It can also help during change to switch up your environment altogether. Taking that much-needed vacation, spending some time away from your parents or kids, or even strolling through the park for an hour after work can help you gain a new perspective.
Creating the ultimate change environment can be as simple as taking a hike or as dramatic as moving to a new house or apartment.

To receive 30 FREE daily tips on Making Change Easier, click here and press the Yes button.
Posted: 1/21/10