Mastering the Inner Game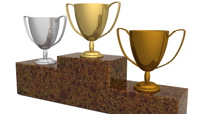 There has NEVER been a better time to launch your own business . . . and there are inner forces that must be aligned with your creative essence to bring it to life. You cannot bring your vision to life if you're held back by limiting beliefs and a cacophony of negative inner voices. Let's face it, if your dream is big enough it's going to challenge you beyond your current capacity.
Our presenters are successful conscious-business entrepreneurs who have faced and surmounted the inner game: Ariane de Bonvoisin, Jennifer McLean, Colin Tipping, Mary Allen, Maryam Webster, Mike Robbins, Mattison Grey, Ellen Britt, Dr. Dean Shrock, Eva Gregory Adela Rubio.
Reserve your online pass now, before bridgeline capacity is maxed out. You won't want to miss this dynamic event hosted by Conscious Business Mentor, Adela Rubio.
Posted: 1/19/10