Your VIP Ticket to an Extraordinary Event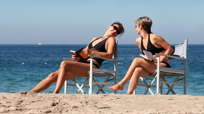 I want to personally invite you to join me for one of the most extraordinary teleseminar series of the new year, and best of all, your ticket won't cost you a dime.

Please join me for this very special and powerful event, From Darkness to Light: Living a Miraculous Life, which begins Tuesday, January 19th.
My friend and colleague, Shifra Hendrie, an expert on authentic Kabbalah, is hosting the event and she has pulled together a phenomenal gathering of teachers and mentors, who are not only going to share their rich and fascinating wellspring of wisdom with you, but who are also going to open up their personal treasure chests to offer you their cutting edge secrets and transformational tools right there on the live calls!

I am honored to be part of this amazing series and will be sharing with you how you can master the process of Change, so that you can access your inner power and move through your struggles and toward your dreams with maximum smoothness and ease.
Please join me for this unique series as we explore the frontiers of consciousness and human potential, and begin to master the keys to transforming your life and your world.

This unprecedented event begins Tuesday, January 19th at 9:00 p.m. EST. There's no fee, but you do have to register to make sure that we hold your spot for you.

By the way, don't worry if you can't make the sessions live. Each and every session will be recorded, and available for an additional 48 hours after the live class.

Ariane

P.S. Remember: opening up to new, life-changing perspectives works even better when you're not doing it alone. So be sure to register right now and invite your friends!
Posted: 1/18/10