The Ultimate Cancer Pep Talk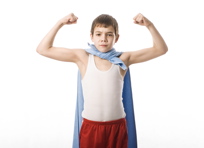 Some might look at a cancer diagnosis as the end of the world. Cancer survivor, Bret Martin, also known as the "Cancer Crooner," saw it as a jumpstart on a new life. Midway through chemotherapy, after his colon was removed, he began "The Ultimate Cancer Pep Talk." "I started writing songs about my new life experiences," recalls Martin, "to broach the many taboos around cancer as well as issues of ego and humility surrounding an ileostomy." The program, co-written with his oncologist, offers songs and dialogue as therapy and inspiration to cancer patients and loved ones.

An expert in overcoming adversity, Martin offers his strategy for embracing change and neutralizing fears. "Whenever a change occurs in my life that I deem negative, I…create an event which is positively charged that exceeds it in magnitude." He gives the example of nervously awaiting cancer surgery. "I counteracted this perceived upcoming negative change event by hosting 'a going-away party for my colon,'" he remembers.

Martin sums up his new perspective on life. "I invite everyone to consider that life on earth lasts merely a cosmic nanosecond, so live it."

Read more about Bret Martin in our Profiles of Change gallery.
Please feel free to forward this message to any friends you think will need it.
Posted: 1/17/10