Smart Is Cool: My Change Nation Interview with Ana Henao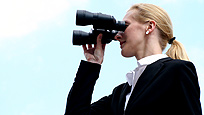 Intelligence is not just about book smarts. It's about using all your tools—all your skills, all your smarts and anything you learn along the way—to help you reach your goals. That's according to Ana Henao, one of three co-founders of "Smart is Cool," a movement that seeks to redefine smart and set a new standard for cool at college campuses across the U.S. "The most fashionable thing you wear is your intelligence," says Henao, quoting the community's motto.

Why don't girls see smart as cool? Henao blames the media, pointing out that many of the stars they look up to don't make the smartest choices. "There may be the Lindsays and the Britanys," she says, "but [girls need to see that] there are also all of these women who have accomplished such great things by being smart." Stories of inspirational women will appear on the Smart Is Cool web site and are being compiled for an upcoming book, which I am honored to be a part of.

Listen to my entire Change Nation interview with Ana Henao.
Please feel free to forward this message to any friends you think will need it.
Posted: 1/15/10