Frugal Living Don'ts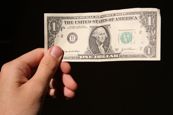 Living frugally isn't about spending as little as possible whenever possible. Seemingly thrifty habits can actually end up costing you more in the long run. Editor and publisher of Budget Savvy magazine, Melissa Tosetti, offers a few frugal-living don'ts:

- Don't buy cheap clothes that will only wear out (or go out of style) and have to replaced. Instead, try shopping at thrift stores. Not only will you get items at 90% off, but you won't look like everyone else.

- Don't skimp on car maintenance. Be militant about changing the oil, rotating tires, etc. Taking care of your car will help you avoid expensive repairs or purchases down the road.

- Don't skimp on healthy food. While coupons may appear to save you money, they're typically for packaged or processed foods, items that leave you craving more or feeling hungry sooner. It's usually cheaper (and definitely better for you) to buy fewer, healthier items.

To receive 30 FREE daily tips on Frugal Living, go here and click the Yes button.
Please feel free to forward this message to any friends you think will need it.
Posted: 1/14/10