Romance Advice from the Author of Men Are from Mars, Women Are from Venus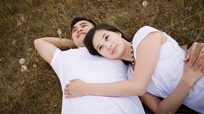 No matter how much we have or achieve in life, success is more fulfilling when we're able to share it with another person. That's according to John Gray, best-selling author of Men Are from Mars, Women Are from Venus. He offers this advice on finding a new relationship:

- Try something new—join a club or an activity that might be different for you. New and different experiences bring out new and different parts of us, which makes us very interesting to others.

- Join a group that shares your values, such as a spiritual community. If you're political, get involved with that. If you have children, get involved in school activities, such as fundraisers and celebrations. You won't meet anyone new if you stick to your same old routine.

- Practice visualization. See yourself having fun on a good date. Imagine being in an ideal relationship without being concerned about how you're going to get there.

- Review previous relationships and the lessons you've learned. Recognizing mistakes helps you to have a better relationship next time.

- Be persistent, confident and self-assured. Those are the key ingredients.

To receive 30 FREE daily tips on Finding Romance, click here and then click the Yes button.
Posted: 6/23/10