What's Really Running Your Life?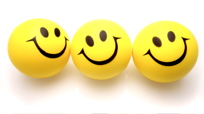 You may think that your actions and reactions are controlled by a unique and complicated set of wants and desires. But, as I explained to Shifra Hendrie in her recent teleseminar series, From Darkness to Light, for the most part, there are three basic programs that run all of our lives:

1. The need for love and approval
2. The need for staying and being in control
3. The need for safety and security

When you have a bad day or you feel stuck in a dark place, it's usually because one of these programs is being triggered: Either you don't feel safe; you're feeling out of control; or, you aren't getting enough love and approval from yourself or from the world.

Becoming unstuck starts with becoming aware of these needs as they arise. Then you can say, "A-ha, all I'm really looking for right now is the desire to feel safe. What else can make me feel safe?" And the healing can begin.

Listen to my entire interview with Shifra Hendrie.
Posted: 5/31/10