Why You Must Trust Your Gut!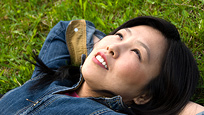 Some of the top CEOs in the world make big decisions based not on numbers or spreadsheets, but on their intuition. They literally ask themselves, "how does this feel?" Many of us are so in our heads that we forget to listen to this inner guidance system. Start tuning into yours with these suggestions from my recent Examiner.com article:

- Every morning, pay attention to that small moment when the mind hasn't yet taken over. That's when intuition is often the strongest.

- Be more aware of your body. Are you eating more? Are you sleeping less? If someone just invited you to do something, did your body contract or was there an openness about it? The more you question how your body feels, the more information you receive from your intuition.

- Be ready for clues and signs, or what I call the Language of Life. For example, a significant message might appear to you through a magazine you happen to pick up in a cab, or through a song that you hear three times. Keep asking, "what is life trying to tell me?"

Read the rest of the Examiner.com article.
Posted: 4/28/10