Detox Your Home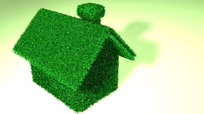 As few as three potted plants can make a significant difference in the level of VOCs (volatile organic compounds) in your home. "Houseplants are so important to our indoor air quality that NASA conducted a study," says celebrity designer and interior expert, Kelli Ellis, of TLC's Clean Sweep. "They realized that many closed, public buildings had as much as 900 VOCs in the air. As a result, there are many reports affirming that houseplants do, in fact, remove almost all of the VOCs in the air."

In one University of Georgia study, Hemigraphis alternata (purple waffle plant), Hedera helix (English ivy), Hoya carnosa (variegated wax plant), and Asparagus densiflorus (Asparagus fern) had the highest VOC removal rates. Ellis's favorites are the areca palm, the bamboo palm and the lady palm, particularly for height and for space-filling purposes.

In the meantime, if you're curious about the level of VOCs in your indoor air, you can purchase a home kit at most hardware stores.

To receive 30 FREE daily tips on Creating a Green Home, go here and click the Yes button.

Posted: 3/13/10