Top 3 Tips for Parenting Teens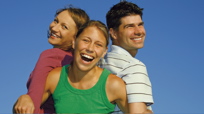 If you're the parent of a teen, chances are good, your relationship can only improve from here. Sue Blaney, author of Please Stop the Rollercoaster! How Parents of Teenagers Can Smooth Out the Ride, offers these secrets to parenting success:

1. Focus on staying connected.
Share time and space with your teen. Find things that you enjoy together. Whether this happens every day or every week matters less than that it happens with some regularity. Being connected is a prerequisite for communication.

2. Think "Basics."
Parents of teens too often think there is some magic that occurs in families who seem to function well. It's not magic, but attention to the basics: Treat your teen with respect, listen to what he or she has to say, allow your teen to express emotions and don't be afraid to share both your authority and your flexibility.

3. Develop and nurture a support network for yourself.
Parents who are connected with other parents keep their teens safer, improve their communities and benefit from sharing ideas, humor and perspective on what can sometimes be a lonely journey.

Read more expert advice from Sue Blaney on improving relationships with teens.
To receive 30 FREE daily tips on Improving Relationships, go here and click the Yes button.

Posted: 3/2/10