Top 3 Ways to Be Debt Smart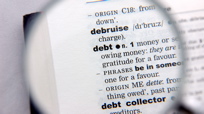 If you're drowning in debt, stop beating yourself up about the past and commit to being "debt smart" now. Scott Bilker, author and creator of DebtSmart.com, shares the three most important things you can do to have long-term success in reducing debt:

1. Get organized financially
Piles of bills and paperwork on the kitchen table will be your downfall. Set up a filing system for bills, debts, etc. Consider using online banking to schedule payments and reminders ahead of time.

2. Become more efficient with your current interest rate
Negotiate with banks or transfer balances to cards with lower rates. (See recommended list on Debtsmart.com.) Don't transfer all balances to one account. If you're late once or twice, they can raise the rate, and you won't have negotiating power to transfer the balance to other cards.

3. Start thinking about how to earn extra money
Even if rates were zero, you'd still have to pay the money back. Earning even a little more money can help tremendously. Act on entrepreneurial ideas that aren't overly risky. Sell your extra things online. Check out online opportunities, such as getting paid to be an online juror.

To receive 30 FREE daily tips on Reducing Debt, go here and click the Yes button.
Posted: 2/22/10