How the Big Oprah Article Happened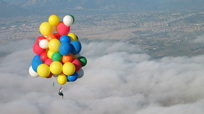 During a recent interview on the Everything Is Energy radio show with co-hosts, Kristin and David Morelli, two of today's leading visionaries, I mentioned that power moves through those who serve. My own story is a perfect example.

Two years after leaving my corporate job, I found myself sitting with a group of women at the TED conference. As I passionately described my own life changes and the idea of creating a web site to help others through change, one woman because very interested and said that she'd love to do a story. She turned out to be the Features Editor of Oprah Magazine!

This has been my experience throughout my journey. When I stay very clear about my intention—to relieve suffering by helping others who truly want to make their lives better—everything happens for me. The minute I start to make it about me and what I'm going to get out of it, the energy shifts and the synchronicities start to fade.

Define an intention of service, stick to it, and the universe will open thousands of doors.

Listen to the entire interview for free.
Please feel free to forward this email to any of your friends you think may need its information right now.
Posted: 9/30/09