Top Steps to Take Before Moving to a New City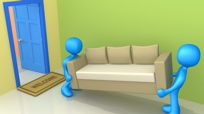 Moving to a new city can be an overwhelming and emotional experience, whether the move has been well thought out or is a surprise. In my Redbook magazine article, "5 Steps to Take Before Moving to a New City," I offer some steps to help ease the transition:

- Make a plan. Create a checklist with deadlines for everything that needs to get done, from packing to canceling your phone. Set small goals and reward yourself after each task.

- Get the lay of the land. Before you move, purchase a map and travel book and read up on your new city. Once there, take leisurely walks and drives to locate grocery stores and other points of interest.

- Psych yourself up. Think of your move as an adventure. Appreciate each new discovery and give yourself credit for taking a risk. On the other side of this transition, you'll find a new inner strength!

Read my entire Redbook article at or find more expert tips and advice on moving to a new city on our web site.
Posted: 9/28/09