The Key to Changing Your Life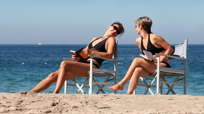 Why do some of us initiate change and follow through, while others never do? If I had to pick one thing that makes the difference, based on thousands of interviews for my book, The First 30 Days: Your Guide to Making Any Change Easier, it would be optimism. I wrote a blog for Maria Shriver's wonderful site about this and wanted to share it with you.

Maintaining optimism while creating and navigating change involves choosing a certain set of beliefs. It's about focusing on our potential, rather than on our limitations. It's about believing that life is on our side, rather than against us, And it's about believing that something good will come of any change we pursue, whether or not the change is deemed "successful" by society. Ultimately, change optimists believe in something greater than themselves that's always there to support them.

Your beliefs and thoughts truly do create your reality. You don't have to be born an optimist. Learn how to become someone who thinks differently about change and about what's really possible.

Read my entire article on optimism at the Women's Conference web site.
Please feel free to forward this email to any of your friends you think may need its information right now.
Posted: 9/27/09