3 Things to Do When You're Down and Out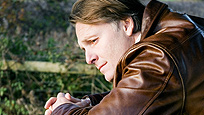 When you're feeling down and out, the last thing you want to hear is, things will get better in time. Improve your mood sooner rather than later with these suggestions:

- Express yourself. Keep track of your thoughts, as well as the things you're grateful for, in a daily journal. Releasing negative feelings and focusing on gratitude both have mood-lifting effects.

- Give yourself a boost. Incorporate exercise into your daily routine. Even 10-15 minutes of walking or playing with a pet or child is helpful. Gradually work up to 30 minutes at least three days a week. A Duke University study showed that regular exercise can boost your mood as much as Zoloft, a popular antidepressant.

- Do good. The sense of goodwill that comes from helping others is priceless. Plus, focusing your attention on others helps to minimize the constant self-examination that often accompanies depression.

For more tips on dealing with depression and anxiety, click here. Of course, in the case of severe depression, consult a professional.
Please feel free to forward this email to any of your friends you think may need its information right now.
Posted: 9/26/09