5 Things to Look for in a Soul Mate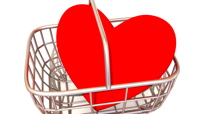 Want to find a lasting love relationship? In her recent title, Prince Harming Syndrome: Break Bad Relationship Problems for Good, best-selling author, Karen Salmansohn, combines Aristotle's ancient love philosophies with modern research studies into a list of five things to look for in a potential partner. She advises people to stop focusing on superficial qualities such as funny, sexy, hot or rich, and instead, look for someone who:

1. Has the same end in mind as you do—i.e., marriage, kids or no kids, etc.
2. Values growing—especially during conflict, as in, how am I contributing to the situation?
3. Understands that a relationship serves two functions—one, a den of pleasure (plenty of passion) and two, a laboratory for growth.
4. Makes you feel safe—so you can communicate openly. Salmansohn puts safety even before love.
5. Is a happy person—avoid anyone with anger-management issues, addictions and so on.

Listen to the rest of my Change Nation interview with Karen Salmansohn.
Please feel free to forward this email to any of your friends you think may need its information right now.
Posted: 9/25/09