The 2009 Better Men Better World Search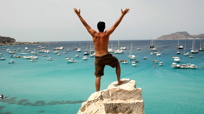 GQ wants to know, who is this year's Better Man? They aren't talking about the best looking or the best lover, but "an agent of change striving for the betterment of society through charitable work, volunteerism, and/or community involvement—someone who is working hard to make this a better world?"

The Better Men Better World Search is part of GQ's philanthropic initiative, The Gentlemen's Fund, which was established in 2007 to raise awareness and support in areas that are essential to modern men. Based on reader nominations, GQ has selected five finalists for this year's search, the winner of which will be honored at the Gentleman's Ball in New York City and have $10,000 donated to the charity of his choice. He'll also be featured in the pages of GQ.

View the finalists and cast your vote here. Consider becoming an agent of change yourself by donating to the charities the finalists support, or by offering your time or contribution to an organization in your community. Even small amounts can make a big difference! And yes, here at First30Days, we are always looking for volunteers as well if you feel compelled to donate some time.
Please feel free to forward this email to any of your friends you think may need its information right now.
Posted: 9/24/09