Pursuing Your Dreams: My Change Nation Interview with Jessica Ortner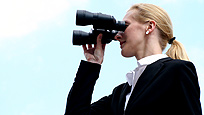 Don't let tough times stop you from pursuing your dreams. Try redefining yourself, perhaps with an element of fantasy, to put a positive spin on things.

When 23-year-old Jessica Ortner, co-producer of a Meridian Tapping Technique documentary, was short on cash and living in NYC, she used her imagination to learn how not to have money. "I love True Hollywood Stories," recalls Jessica. "There's always a moment where someone who's famous now was broke, and they were thinking about quitting, and they kept going." She goes on, "I would say to myself, this is the part in my True Hollywood Story where everyone wonders if she's going to make it."

It all comes down to how you see yourself and your situation. More than anything else, it's your attitude and the way you look at things that are going to get your through.

To listen to my entire Change Nation interview with Jessica Ortner, click here.
Please feel free to forward this email to any of your friends you think may need its information right now.
Posted: 8/7/09