Parenting Kids Through Change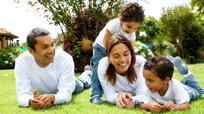 To help prepare your children for the years ahead of them, teach them one of the most fundamental life skills: How to handle change. Here are a few insights that can really make a difference when parenting kids through a divorce, a death, a move or some other major life change:

- Set a good example. Kids tend to reflect your actions and feelings. Be positive, accept change and stop comparing what is to what was. Ask for help, so kids can see that they/you are never alone.

- Encourage them to trust their intuition and instincts. Teach kids to tune into the signals their bodies send them about what's right and wrong. Show them that they have access to answers on the inside.

- Teach them "The Change Guarantee." Write down "from this situation, something good will come" and put it someplace visible. Talk about the good that has resulted from previous changes. Teach them that life is on their side.

For more tips on helping kids handle change, click here.
Please feel free to forward this email to any of your friends you think may need its information right now.
Posted: 8/3/09