Surviving A Big Meeting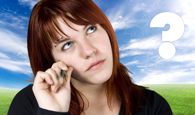 Whether it's a date, an interview or a presentation to your new boss, the first time you meet with someone can seem a little daunting. Internationally renowned speaker, author and coach, Judy May Murphy, offers these dos and don'ts to help you get the most out of a first meeting:

- Don't try to do it all on the first day. Allow personal details to emerge over time, so that you don't appear to be reciting your own biography.

- Don't picture the perfect scenario. Otherwise, you'll end up trying to manipulate the conversation unnaturally. Instead, imagine the feelings that you'd like to experience—calmness, happiness, efficiency, and so on.

- Do realize that it's not all on your shoulders. At least one other person will be contributing to the conversation, too.

- Do realize that what got you there will get you through. You were chosen for your loveliness or for your skills or for being the right person at the right time. Chances are, this is still the case.

Read more dos and don'ts on surviving a big meeting here.
Posted: 8/29/09