Secrets of Successful CEOs: My Change Nation Interview with Berny Dohrmann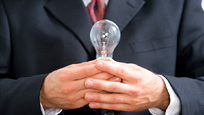 If you're thinking of starting your own business, stock up on secret knowledge—that is, specialized knowledge in capital. According to Berny Dohrmann, founder of CEO Space, this knowledge is what makes the difference between raising the capital you need and getting stuck.

"The notion that you can do it without capital in a capitalistic environment and culture that we live in is going to cause you more pain and grief," suggests Dohrmann. He uses the analogy of a slingshot. "You need to pull that slingshot back with capital to the point that you have the tension and energy to go all the way home to the bullseye."

Dohrmann adds that you can learn about capital for free at his CEO Space Success Channel. "It broadcasts 24 hours a day and has plenty of capital modules from the best trainers and law firms in the world," he asserts.

To listen to my entire Change Nation interview with Berny Dohrmann, click here.
Please feel free to forward this email to any of your friends you think may need its information right now.
Posted: 8/28/09