Resolutions in September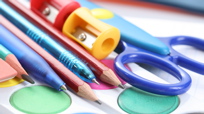 It's almost September and that back-to-school feeling is in the air. Whether you're school-bound or not, buckle down and start fresh with these strategies for a successful year from my recent article in Seventeen.

Plan Ahead
Before a difficult week, plan something special for the weekend. Having something to look forward to will make the time fly!

Laugh It Off
Sunday night, rent a funny movie and watch it before bed. It'll put you in a good mood for the start of the week.

Save the Easiest for Last
When work piles up, tackle the hardest thing first while you're focused. It gets easier from there.

Wear Your Power Color
Find your "Red Bull Color"—the one that makes you feel good and invites compliments—and stock up.

Have a Pick-Me-Up
Pick a word for your new outlook this year, such as positivity or courage. Display it visibly--that is, on your cell phone screen--as a reminder to live it daily.

To read my entire article, click here.
Posted: 8/26/09