Beauty's All Around Us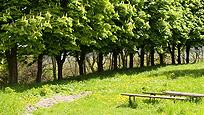 Ever wonder how many things you're missing out on in life, because you're too busy to stop and appreciate them? We become so focused on our own lives and thoughts that we tend to ignore the beauty around us.

Consider the story of the violinist who played for an hour in L'Enfant Plaza Station in Washington D.C. Out of approximately 2,000 passers by, almost no one stopped to listen.

The violinist was none other than Joshua Bell, one of the finest musicians in the world, playing classical masterpieces on a $3.5 M Stradivarius violin! The Washington Post arranged the performance as a social experiment. They wondered, "in a banal setting at an inconvenient time, would beauty transcend?"

Don't wait for someone to tell you what's good and what isn't. Beauty is all around us, if we just take the time to stop and listen.
Posted: 8/22/09