The Epiphany Project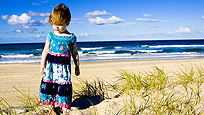 If you've ever had an experience, small or large, that's changed your life, you've had an epiphany. But have you ever shared this experience with others? Actress and independent filmmaker, Elise Ballard, is working to develop a community where people can experience, learn about and share great epiphany stories.

"Most of our epiphanies contain our greatest wisdom and incredibly valuable insights," says Elise, "but many times we don't share these stories readily because they often occur in very private ways."

Elise's hope is that people can feel inspired and learn as much as she has from the epiphanies of others. Her Epiphany Project currently consists of a web site and a book-in-progress, Epiphany, but she dreams of expanding it into a series of books, a web community and perhaps an independent film. There's even been some interest in a television show.

To read more about Elise Ballard in our Profiles of Change gallery, click here.
Please feel free to forward this email to any of your friends you think may need its information right now.
Posted: 8/18/09