Sleep More, Lose Weight: My Change Nation Interview with Christine Fee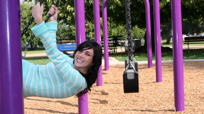 If you need a little help with weight loss, try getting more sleep. According to sleep expert and fitness trainer, Christine Fee, in addition to sapping your energy and making you look old and tired, sleep deprivation can make you gain weight.

"Your metabolism will slow down," says Fee. "your body will store fat, [and] you'll crave fatty foods and salty snacks and all those things which will then throw off your good eating habits and your exercise regimen."

For a good night's rest, Fee recommends relaxing mentally and physically before bed. "People say, oh yeah, I know, I should meditate, I should deep breathe, but I don't have time," she says. "I think it's because they don't have something tangible to use." Her solution was to develop the Good Night, Sleep Right DVD/CD program, a combination of light stretching, guided imagery, and soothing music that will calm you down in about 15 minutes.

To hear my entire Change Nation interview with Christine Fee, click here.
Please feel free to forward this email to any of your friends you think may need its information right now.
Posted: 8/14/09