Character Is Our Bailout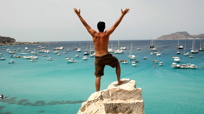 There is nothing more important than your character. That's the premise of Gary King's upcoming book, Character Is Our Bailout. "It appears that we have become a society of situational ethics and integrity," says King, world-class speaker on honesty, integrity, self-worth and forgiveness, in an exclusive book preview.

He suggests that three decisions will reshape your life forever and create the potential for health, wealth and happiness:

1. Live an authentic life. Be honest all the time, not just when it's easy.
2. Look in the mirror and like what you see. Try it. You will be amazed what happens over time.
3. Forgive yourself and others always. It's a gift for you, because you deserve it.

Also, check in with yourself by taking the "24-Hour Truth Challenge." Commit to 24 hours of being honest and authentic with yourself and everyone else, and you'll notice an internal feeling of freedom and inner strength.

Read the rest of this exclusive book preview here.
Please feel free to forward this email to any of your friends you think may need its information right now.
Posted: 7/30/09