Rings of Change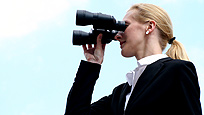 What we believe, we live. That's the underlying message of Inside Out rings hand-crafted by jewelry designer, Holly Riddel. It took hitting an emotional bottom for Holly finally to listen to her intuition. Now she's living her dream of helping others.

"My Inside Out rings carry the message that all healing begins from within," says Holly. "Our thoughts can and do sculpt our reality." On the inside of each ring is a stone that has a specific intention and energy attached to it. The ring acts as a tool for positive change by keeping you focused and committed to your new intention.

Holly's hope is that her rings will inspire others to create whatever they want in life, as she has been able to do. "It's what's on the inside that counts, and it all starts with each one of us," she suggests. "We change the world when we change ourselves."

I have a ring—the courage ring—and it's been with me through my current TV, press, and book tour. It's an incredible symbol and reminder for me. I encourage people to get rings for the quality they want to feel more of in their lives. Is it passion? Self-love? Faith? Fearlessness? Forgiveness? Tranquility? These rings are beautiful and each is handmade by Holly so their intention is very pure.
Read more about Holly Riddel and other change agents in our Profiles of Change gallery.
Posted: 7/27/09