When in Doubt...Do This!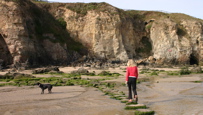 The best way to overcome doubt—one of the emotions, or "change demons," that can hold us back during change—is to surrender. We tend to wonder, why is this happening to me? Or what's going to happen on the other side of this change? But as I discussed in a recent Oprah Radio interview with host, Dr. Mehmet Oz, if you accept the fact that you won't be given these answers right now, you have the key to moving forward.

During interviews for my book, I asked many people how they got through doubt during divorce, a health diagnosis or some other change, and every person said the same thing: "I just had to let go." They knew their questions would be answered eventually, just not now.

When doubt creeps in, the best thing you can do is to keep going. To use the familiar metaphor, accept that you're flowing down the river of life—without clinging to rocks or trying to row back upstream.

Posted: 7/26/09