Change the World in One Hour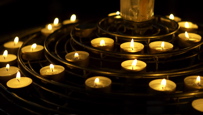 Imagine if millions of people could combine their energies to create a new earth—one of equality, abundance and full potential for all humans. Fire the Grid, a global project for loving intention, has already begun the process.

On July 7, 2007, the largest mass meditation in the history of the world had such a powerful impact on the planet's energy level that a device at Princeton University recorded a measurement. This was phase one of Fire the Grid.

The second phase will take place on July 28, 2009. Starting at 19:19 Rio di Janeiro time, Fire the Grid invites you to spend one hour using meditation, prayer, thought, music, intention or any other tool to visualize a better world into being.

If nothing else, enjoy an hour of meditation, prayer or positive thinking, knowing that millions of people around the world are doing the same thing at the same time. You never know, maybe you really are participating in an energetic re-creation of the world!

Read more about Fire the Grid at this link.
Posted: 7/25/09