4 Things Not To Do With Email: My Change Nation Interview With Tim Ferriss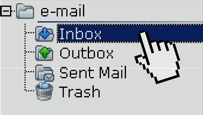 You'll have more time to do what you want if you choose the right time to deal with email. To keep your productivity high and your relationships strong, Tim Ferriss, author of The New York Times best-seller, The 4-Hour Workweek, offers these email "don'ts":

Don't check email first thing in the morning. Going into a reactive, bullet-dodging mode will immediately erase any predefined agenda that you have.

Don't check email in real time. Set predefined times to check messages—i.e., 10 am, 2 pm and 4:30 pm.

Don't check email when your partner is asking you to come to bed. "I'll be right there" can easily become 2-3 hours. Structure separate home and work environments.

Don't check email on Saturday morning. Plan the upcoming weekend on Tuesday, or you'll default to checking email and waste a perfectly good day off.

To listen to my entire Change Nation interview with Tim Ferriss, click here.
Posted: 7/17/09