The Most Important Promise You'll Ever Make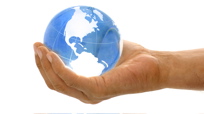 If you want to show your commitment to peace but don't know where to start, consider taking a vow of nonviolence. On November 7, 2008, 500 attendees at the Alliance for a New Humanity Human Forum in Barcelona took a vow for nonviolence in their speech, thoughts and actions. They asked others to join them in taking this vow. Now, President and Founder of the Alliance, Deepak Chopra, is asking you to help them reach their goal of 100 million people.

Imagine how the world would be transformed if a critical mass committed to nonviolence!

Taking the vow is simple. The Alliance asks you to close your eyes, put your awareness in your heart and ask yourself if you are willing to commit to nonviolence in speech, thought and action. Then find two people to take the vow with you. That's it.

If you'd like to help bring about "a world of peace, harmony, laughter and love," go to this site.
Posted: 7/15/09