What You Must Know about Food!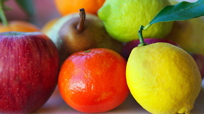 Are you concerned by all the stories you hear about food poisoning, pollution, labor abuse and other industrial food issues? A recently released film, Food, Inc., explores the facts behind the problems. As the tagline reads, "You'll never look at dinner the same way again."

Filmmaker Robert Kenner exposes a set of realities very different from the ones food makers would have us believe. "Our nation's food supply is now controlled by a handful of corporations that often put profit ahead of consumer health, the livelihood of the American farmer, the safety of workers and our own environment."

Food, Inc. reveals shocking and surprising truths about our nation's food supply. We may not want to hear it, but when it comes to feeding our families, we need to know the truth.

To read more about the film or to find show times near you, click here.
Posted: 7/12/09