A New Partnership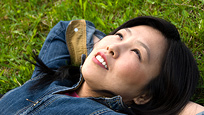 I'd like to share with you a new project we are working on. This one is for women, so if it's not for you, just forward this message to your mom, wife, girlfriend, sister, child, colleague, etc. and she'll thank you for it!

Check out our partnership with CarefreeFreshStart. Here, you'll find more of the fresh advice and ideas we're known for at First30Days. Whether it's a small change that you'd love to make (and follow through on) or a major lifestyle overhaul, there's nothing like a fresh start to make you feel like your world is back on track.

In addition to useful tips in areas such as career, health and wellness, relationships, fashion and beauty and even some special insight for teens, you can also find funding opportunities to help you make your fresh start. Money always seems to be an excuse not to get going with a goal or a dream. Now, that might be taken care of as well.

To apply to receive up to $10,000 in Fresh Start funding, women simply need to share why they want a fresh start, what their plans are for reaching their goal, and how the funding can help. Entries will be evaluated by a panel of judges, including me, based on the strength of the plan, use of funding and persuasiveness. We'll choose ten finalists who will receive funding to help make their fresh start goals a reality, and then the public will have the chance to vote online for the best fresh-start plan. The top three will join us in New York City in the fall, where we will celebrate with them and acknowledge all the women who followed through on their change!

Come visit CarefreeFreshStart and be part of the change movement with First30Days and the makers of CAREFREE®.
Ariane
Posted: 6/2/09