Tap Your Way to Better Emotional Health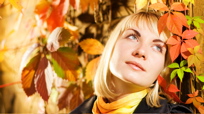 When 23-year-old, Jessica Ortner, tried a Meridian Tapping Technique to heal her negative emotions, she was impressed with the results. So impressed, in fact, that she teamed up with her brother and his best friend to produce a documentary on "Tapping." Despite having no prior film experience, she wanted to share with everyone in the world this power to heal yourself.

Jessica's inspirational film demonstrates this combination of ancient Chinese acupuncture and modern psychology, which involves tapping your fingertips five-to-seven times on your body's 12 different meridian points while focusing on resolving a negative issue—i.e., fear, anxiety, an addiction, a physical ailment or some other unresolved issue. "Tapping, like acupuncture, achieves healing through stimulating the body's meridians and energy flow," says Ortner. "However, unlike acupuncture, Tapping, uses no needles." Best of all, you can do it yourself.

What are you passionate about? Are you or is someone you know working toward real change? Share your story and read more about Jessica and other inspiring individuals who are making an impact on change.
Posted: 5/31/09