One Small Step to Greater Happiness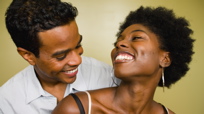 If you want to be happier, let go of that feeling that you're missing out. As one spiritual teacher said, you could sit on the side of the road for five years and your destiny would still find you. You aren't missing out on anything.

Stop worrying about what your life would have been like if you had chosen a different college, career, spouse, neighborhood or weekend activity. You're already sipping margaritas in Puerto Vallarta—forget the connections you could have made at this year's conference.

Wherever you are, let go of that persistent, nagging doubt that you should be somewhere else—that you would have been better off if you had chosen the other option. You are exactly where you're supposed to be right now. Focus on that moment and enjoy it.

For more secrets on being happier, read my MSN Lifestyle article here.
Posted: 5/2/09