Surviving Your New Role as Stepparent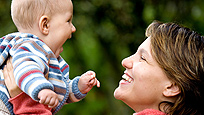 Most stepparenting advice focuses on defining your role with your new stepkids, spouse and ex-spouse, but how do you get yourself through this difficult transition? According to Sally Bjornsen, author of The Single Girl's Guide to Marrying a Man, His Kids, and His Ex-Wife, one of the most important things you can do is to stay true to yourself.

"You do not need to cut out all things familiar and comforting in your effort to become Super Stepmom [or Stepdad]," advises Bjornsen. "If you do, you'll become resentful." She says to continue doing what you loved doing before marriage—working out, going to movies, etc. Time spent on you will recharge your batteries and make you a more supportive family member.

You should also give yourself permission to feel whatever emotions arise without beating yourself up. "Many stepparents report feeling petty, jealous, immature and needy during the first few years," says Bjornsen, and that's okay.

For more advice from stepparenting expert, Sally Bjornsen, click here.
Posted: 4/30/09