The Best Questions to Empower Your Change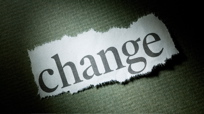 Every change we encounter becomes a gift if we ask ourselves the right questions. And yet, faced with change, we become experts at disempowerment. We ask ourselves, "why did this happen to me?" or "how could I have been so stupid?" And, if it's a positive change, "am I good enough for this?" or "will I mess this up?"

To make your change easier, ask yourself things like:

What could be great about this change?
Could this change protect me from something?
Can I find some humor in this?
What have I already accomplished?

Make a list of empowering questions, carry it with you and answer them daily. Over time, your answers will start to take root and open you to your future.

For more tips on empowering your next change, read my book, The First 30 Days: Your Guide to Making Any Change Easier.
Posted: 4/29/09