Your Dreams Can Come True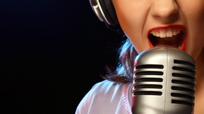 If you have a dream, keep reaching and never give up. That's a lesson we can all learn from 47-year-old Susan Boyle, of West Lothian, UK, who recently auditioned for the hit reality TV series, Britain's Got Talent.

When the un-hip, unemployed Boyle marched out on stage and announced that she wanted to be a professional singer, cynical judges and audience members rolled their eyes. They snickered as she compared herself to British musical theater star, Elaine Paige. But then Boyle began to sing.

When she finished her rendition of "I Dreamed A Dream" from the musical, Les Miserables,
Simon Cowell was completely shocked, co-judge Piers Morgan said it was the biggest surprise he's had in three years of the show and the entire audience was on its feet. Rumor has it, she's already meeting with officials from Cowell's Sony BMG label. Her dream really did come true.

To watch Susan's audition, click here.
Posted: 4/16/09