Space Jams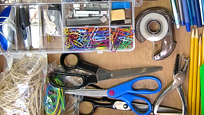 According to many professional organizers, you shouldn't fill drawers to more than 75% of their capacity. Seems they don't work well when they're overfilled—something about jamming up or not being able to find what you need.

Clearly, most of us missed that day in Organizing 101. Which explains why none of our drawers will close.

But now that we understand proper drawer systematics, let's all take our most annoying drawer down to 75% and see what happens.

It can be hard choosing what to toss, so go in reverse. Take everything out of the drawer and, starting with the item you love, need or use the most, line up all those kitchen utensils, sweaters, art supplies, whatever, in order of importance to you. So everything should be less important than the item before it.

You know where this is going… the first 75% goes back in the drawer, the rest gets tossed or goes to charity.

Hey, they were right! It actually opens now…and closes.
Posted: 3/9/09