It's a Doggy Dog World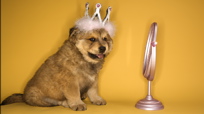 Dogs are awesome. They love you no matter what, give you something warm and fuzzy to hug and even keep you active. If you have the time, energy and inclination, by all means, get a dog. It's one of those changes that's guaranteed to improve your life.

Provided you aren't impulsive about it. Parting with a dog that isn't right for your family can be a painful experience, especially for kids. Don't join the ranks of disposable pet owners.

Have a meeting with everyone in the house to decide on the ideal breed, temperament and/or age dog for your lifestyle. Once everyone agrees, start contacting and visiting local shelters or breeders, or check online. For example, Petfinder, has thousands of adoptable pets from all over the country.

And to think, one of them could be yours.

If dogs are too high maintenance, how about a cat? Or a guinea pig? Provided you find a good match, any pet can make a great stress buster.
Posted: 3/7/09