No Regrets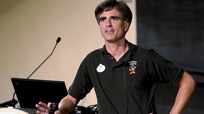 The pancreas is a 6-inch-long gland that secretes various enzymes and hormones. We don't think about it much—that is, until someone we know is diagnosed with pancreatic cancer, the 4th-leading cause of cancer death in the U.S. Then we sit up and listen.

But really, we were wondering what we can learn from this and other devastating illnesses. And we decided it's the most important lesson of all.

How to live.

Following his diagnosis of pancreatic cancer, Randy Pausch compiled his thoughts on living well in The Last Lecture. In it, he discusses the importance of overcoming obstacles, of enabling the dreams of others and of seizing every moment.

"We cannot change the cards we are dealt, just how we play the hand." —Randy Pausch

What life lessons would you share with the world if you had to give a last lecture? Write them down, live by them and have no regrets.
Posted: 3/6/09