Divide and Conquer Your Savings Goals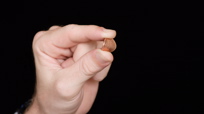 You aren't saving and can't even think about hiring a financial planner. Nor should you, unless you're in serious debt or have loads of money to manage. The electronic payment system can help you sock some money away for free.

You just provide the money.

If you don't have your paycheck deposited directly into a bank account, talk to the payroll department about setting up direct deposit. Some employers don't offer this service, but if enough people ask for it, maybe they'll start.

Once you have direct deposit, ask about splitting it into separate accounts—i.e., putting 10% in savings and the rest in checking. Studies show that people who split their deposit save more per month than those who don't.

So we don't have much willpower. At least we admit it.

Start the paperwork now, and you'll be sure to have your direct deposit in place by May, declared National Direct Deposit and Direct Payment Month by NACHA—the Electronic Payments Association.

Melissa Tosetti, one of our First30Days experts, says "get excited about the idea of saving money." Since she means even small amounts, you'll soon see that a direct deposit of $25 every paycheck will start to add up.
Posted: 3/4/09