Spring Into Action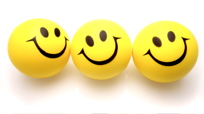 So you haven't had a whole lot of success with your New Year's resolutions. But let's face it—it's hard getting out there to walk, let alone run, when the sidewalks are covered in ice. And seriously, who can diet in January and February? All anyone does in the inter is watch TV, go to the movies, dine out or have dinner parties—sit and eat, sit and eat. Let's all cut ourselves some slack here.

And start over.

What better time for a fresh start than the first day of Spring? Let's all dig down deep, dust off one or two of those discarded resolutions and Spring clean them into shiny, little gems of success.

This time, take it slow. Aim to stick to that diet, exercise routine, savings plan or new attitude until the first day of summer, when you can re-evaluate. Words like forever or "from now on" are totally overwhelming. Plan a reward, like a visit to a swimwear boutique or a day at your favorite beach, and then cash in when you meet your short-term goal.

Way to clean up!
Posted: 3/20/09