Not All EFAs Were Created Equal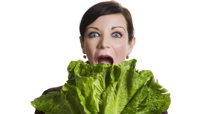 Everywhere you look, someone is touting the benefits of essential fatty acids (EFAs), or "good fats." But not all of these fats are good—at least, not on their own. What's most important is the proper balance of omega-3 to omega-6 fatty acids.

According to the American Journal of Clinical Nutrition, we now consume 10-30 times more omega-6s than omega-3s—an imbalance that has been linked to a long list of serious conditions, including diabetes, heart disease, cancer, obesity, arthritis and mental health disorders. Ideally, your diet should consist of only 2-4 times more omega-6s than omega-3s. You do the math.

To get this ratio back where it should be and improve your overall health, watch your omega-6 intake and increase omega-3s in your diet by eating more fish, green leafy vegetables, nuts and seeds, among other good sources.
Posted: 3/19/09