Never Put Off Until Tomorrow...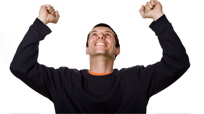 You may be looking forward to having overnight guests for Easter, Passover, or April vacation. Or perhaps you're traveling to Auntie Ethel's this year. The question is, are you ready?

Of course not. Why do something until you have to?

If last-minute stress is the only thing that gets you moving, you might want to think twice about your MO. All that extra cortisol can wreak havoc on your system.

At least a week before your big plans, take inventory of everything you'll need for guests—bed linens, food, tableware, etc.—or for your trip, so there's plenty of time to buy or borrow anything you need. Use a calendar to map out any cooking or other arrangements that need to be made ahead of time, and most importantly, don't be afraid to delegate!

Whatever you've got brewing, planning ahead rather than procrastinating leaves you feeling calm, relaxed and ready to face things with a whole new level of energy. You'll have to forgo the familiar thrill of the chase, but you'll gain something even better—a sense of accomplishment and more control over the one thing that eludes us all—time.
Posted: 3/15/09