Wonder Twin Powers, Activate!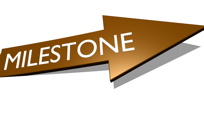 Now that we're well into 2009, how are those resolutions going?

What do you mean they're not? Don't give up now. If your willpower is starting to fade, buddy up with a friend and cheer each other on. There nothing like accountability to keep you moving forward.

First, decide how you'll support each other—check-ins, rewards, consequences, whatever. If you know each other well enough, you can come up with some really good motivators…sorry, but I'm not introducing you to Pam until you've got at least $1000 socked away.

You might also want to list your goals in—and we're going way back to high school for this one—a Venn Diagram. Draw two overlapping circles with your goals on one side, your friend's on the other and any you have in common where the circles overlap. See how unique, and yet not so different, you are? Make two copies and keep them with you as visual reminders of your goals and intertwined commitment.

Remember, at least $1000….
Posted: 2/22/09