Sex and Kids Don't Mix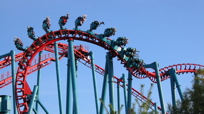 The baby just spit up all over you. Wait, did you hear something? Good vibrations in the diaper region. Please, no, don't start screaming….

Coming to bed soon, honey?

There's nothing like a new baby to get you in the mood. Add a couple of older kids to the mix, and time alone is practically non-existent. Other than when the two of you are in bed together. Asleep.

But according to Ian Kerner, parental happiness should be at the top of your priority list. In his new book, Love in the Time of Colic: The New Parents' Guide to Getting it On Again, Kerner and co-author Heidi Raykeil stress the importance of not letting yourselves become simply roommates or co-parents.

So how do you find the time and energy for each other after baby? Kerner and Raykeil show you how to spice things up and compromise your way to greater intimacy. If you're among the "sleepless and sex-less," it's definitely worth a read.
Posted: 2/21/09